Twin Cooling Plus
Moisture-Full Freshness all over the fridge
Only Twin Cooling Plus™ creates a favourable environment for preserving fresh food in the fridge with 70% humidity, compared to 30% in a conventional Frost Free Refrigerator. So it keeps ingredients fresh for longer without drying out.
Deliciously tasty, odor free frozen food
The Twin Cooling Plus™ system cools the compartments separately to stop unexpected odors spreading from fridge to freezer. So frozen food retains more of its original flavor.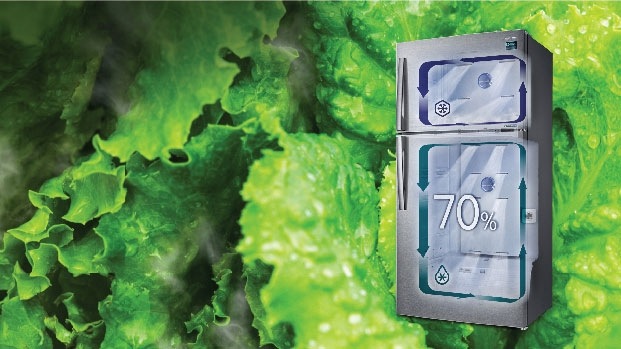 Digital Inverter Technology
Works longer more quietly & uses less energy
Digital Inverter Technology automatically adjusts the compressor speed in response to cooling demand across 7 levels. It uses less energy, minimises noise and reduces wear and tear for longer-lasting performance.* Based on internal testing compared with Samsung conventional model.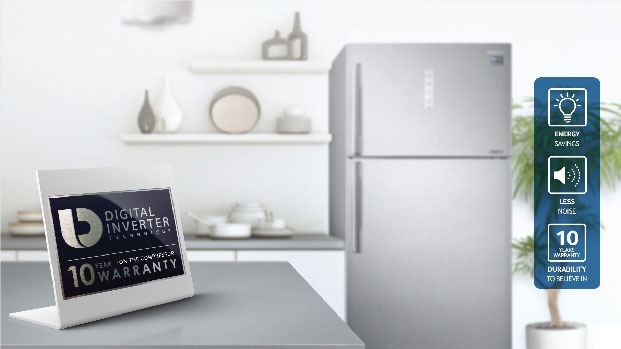 Digital Display
The LED display add a touch of sophistication while putting a wealth of controls at your fingertips. Change temperature settings or turn on Power Cool to quickly chill recently bought items.
Easy Slide Shelf
The Slide & Fold Shelf adds extra flexibility to your storage. It can be easily removed, folded up or raised and lowered to fit in any sized items, including large and bulky containers, so there's no wasted space.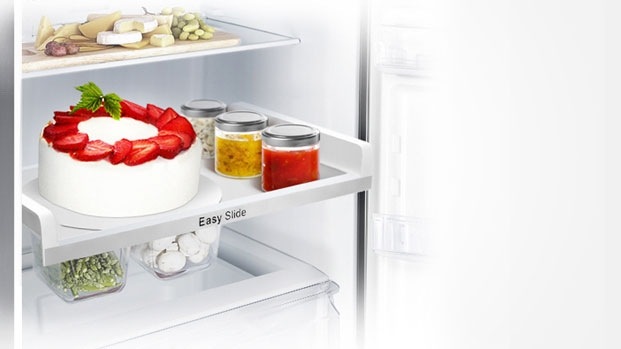 Deodorizer
A built-in natural fiber Deodorizing Filter eliminates bad smells and preserves food's original flavor and aroma for longer. Strong odors are removed as air is continually passed though activated carbon filters.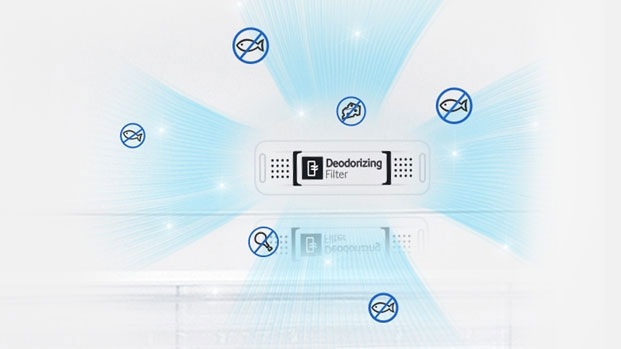 LED Light
The Samsung Refrigerator's high efficiency and long lasting LED lighting is slimmer, brighter and more power-efficient than conventional lighting. Located on the top side of the refrigerator compartment, it brilliantly illuminates every corner of the interior space so it is much easier to find what you're looking for.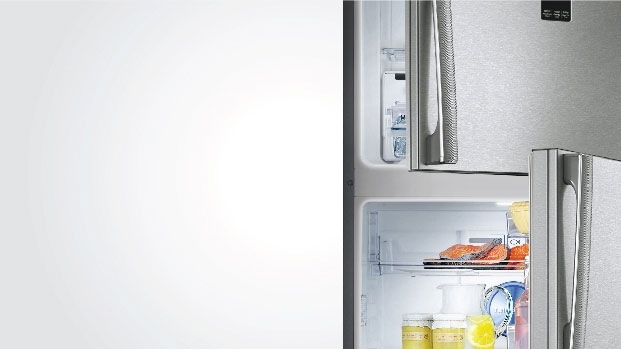 Door Alarm
Now even if you forget to shut your refrigerator door the refrigerator is smart enough to alert you with its Fridge Door Alarm. So, you don't have to incur extra electricity costs and there's no risk of food getting spoilt.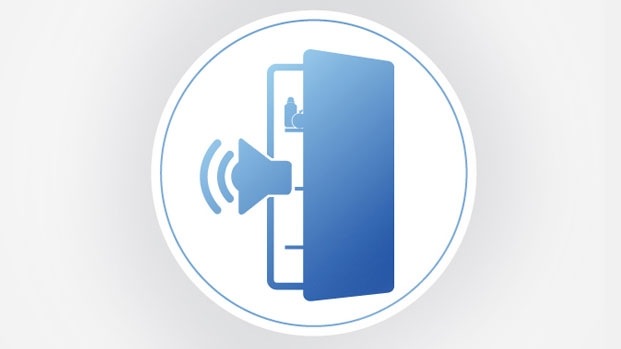 Freshroom
The Fresh Room is a cooler compartment that ensures freshness even if you frequently open the fridge door. It's the ideal place to keep green salad and dairy food, like cheese, as they will stay fresher for longer.
Recess Handle
Recessed handles and hidden hinges provide a touch of elegant minimalism that complements any modern decor.
Power Freeze
Now never run out of ice cubes. The Power Freeze feature on this Samsung refrigerator allows up to 31%* faster ice making, thus conveniently reducing the waiting time. Have ice cubes anytime with the push of a button.
*Result basis on Samsung internal lab test conditions. Individual results may vary.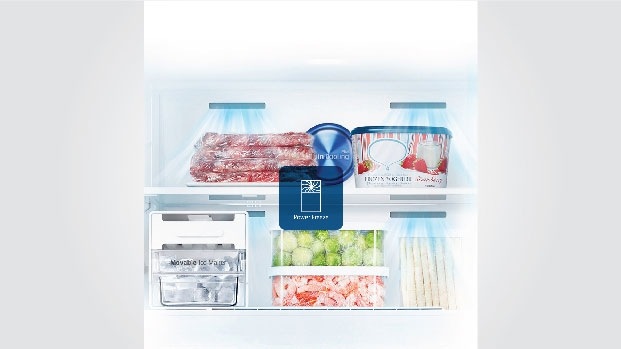 Coolpack 12 Hours
The Cool Pack feature in the freezer of this Samsung refrigerator comes to the rescue during power outages. It keeps food frozen up to 12 hours*, maintaining a temperature below 0 °C.
*Result basis on Samsung internal lab test conditions. Individual results may vary.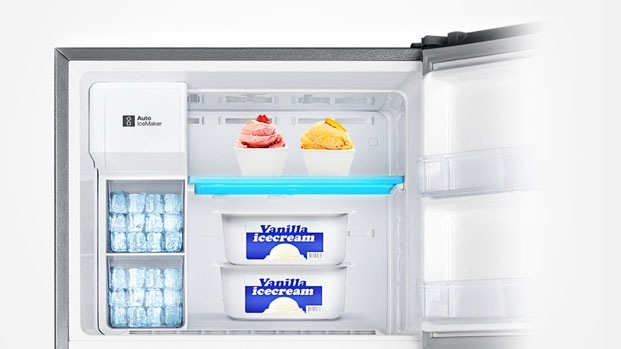 Brand
Samsung
Type of Refrigerator
Frost Free Refrigerator
Star Rating
2 Star
Colour
Pebble Blue
Capacity
465 Litres
Body

Twist Ice Maker
Freshroom
Big Bottle Guard
LED Light
Door Alarm
Recess Handle
Number of Shelf (Total)- 4 EA
Number of Vegetable&Fruit Drawer - 1 EA
Number of Door Pocket - 5 EA
Display & Control (Fridge and Freezer) - External

General Features

Net Capacity - 440L
Shelf Material-Tempered Glass
Egg Container(Egg Tray)
Interior LED Light
Freexer Shelf Material-Cool pack

Convenience Features

Refrigerant-R-600a
Digital Inverter Compressor
No Frost

Additional Features

Ice Maker-Twist
Twin Cooling Plus
Multi Flow
Deodorizer
Big Guards

Dimensions
(H x W x D) mm - 1785 x 700 x 726
Weight
74.5 kg
Warranty
1 year product warranty,10 years compressor warranty