Wind Free Cooling Technology
Wind-Free™ Cooling effectively maintains a comfortable level of coolness without the unpleasant feeling of cold wind. The three key secrets to Wind Free Cooling Technology are – • Front panel with 21,000 Micro Holes for Comfort Cooling Cool where air is gently dispersed through these micro air holes, so you don't feel too hot or cold • Special Wind Free Control Algorithm which uses an Unique algorithm for controlling the wind speed inside the fan & compressor @0.15 m/s • Patented Multi Air Flow System that enables wind flow in multi directions compared to conventional AC where wind flows in a single direction
Stay comfortably cool
Keep comfortable without changing settings
The Samsung Wind-Free™ air conditioner's 2-Step Cooling mode cools the air fast in Fast Cooling mode, then automatically changes to Wind-Free™ Cooling mode to maintain the temperature. So you stay comfortable, without cold spots, and don't need to change settings.
World's First 8 Pole Digital Motor
The newly introduced 8-pole inverter is the core technology of Samsung's advanced Digital Inverter Technology. It's the world's first to utilise an 8-pole motor instead of a 4-pole motor in the compressor of an outdoor unit, so it produces less torque fluctuation. This ensures a more effective and efficient operation with less vibration and noise, resulting in faster cooling. It also reduces energy consumption.
Wind-Free Cooling
The Wind-Free Cooling mode consumes 72% less energy* than Fast Cooling mode. With Wind-Free Cooling, the compressor operates at its minimum Hz to maintain the desired temperature, and the fan motor of the indoor also rotates at the minimum RPM. So, you can stay comfortably cool without worrying about electricity bills.
Triangle Architecture for Superior Cooling Performance
The Samsung air conditioner has been designed from the ground up to be outstandingly efficient. Its unique triangle architecture has a Wider inlet, so more air can be drawn in. The improved width and angle of its outlet, extra v-blades and a bigger fan also ensure that air is cooled and expelled faster, farther and wider. So refreshingly cool air reaches every corner of your room.
Anti Corrosion Durafin Condensor
DURAFIN enhances the heat exchanger's performance and has more corrosion resistance. It's made of a much denser material and thicker in design, and has an improved coating which enables more heat transfer.*
Durable even under salty air environment
DURAFIN™ passes for Sea Water Acetic Acid Test (SWAAT) over 90 days.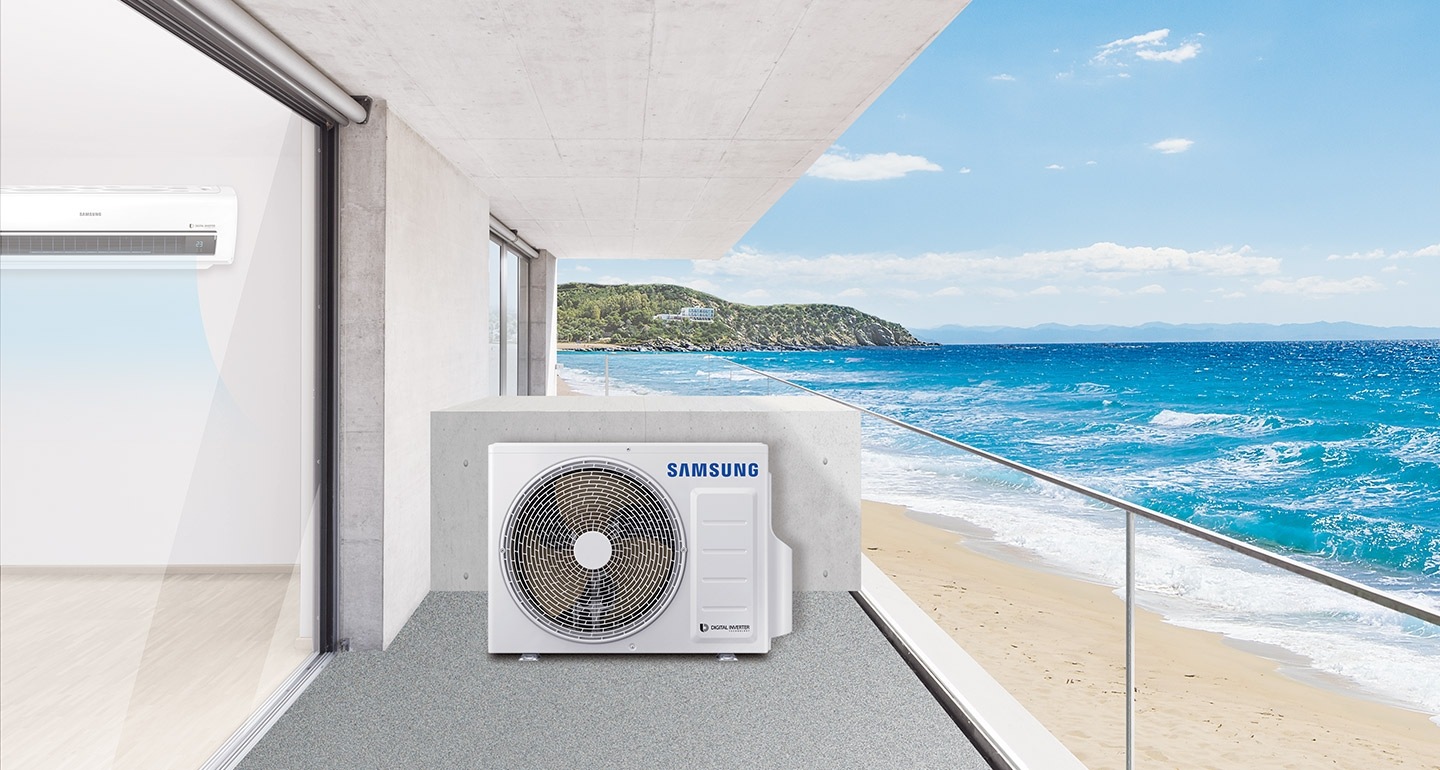 Easy to Clean
The Samsung air conditioner's Easy Filter Plus is located outside, on the top. So it can easily be taken out, cleaned and put back – without having to open a cover or pull hard to get it out.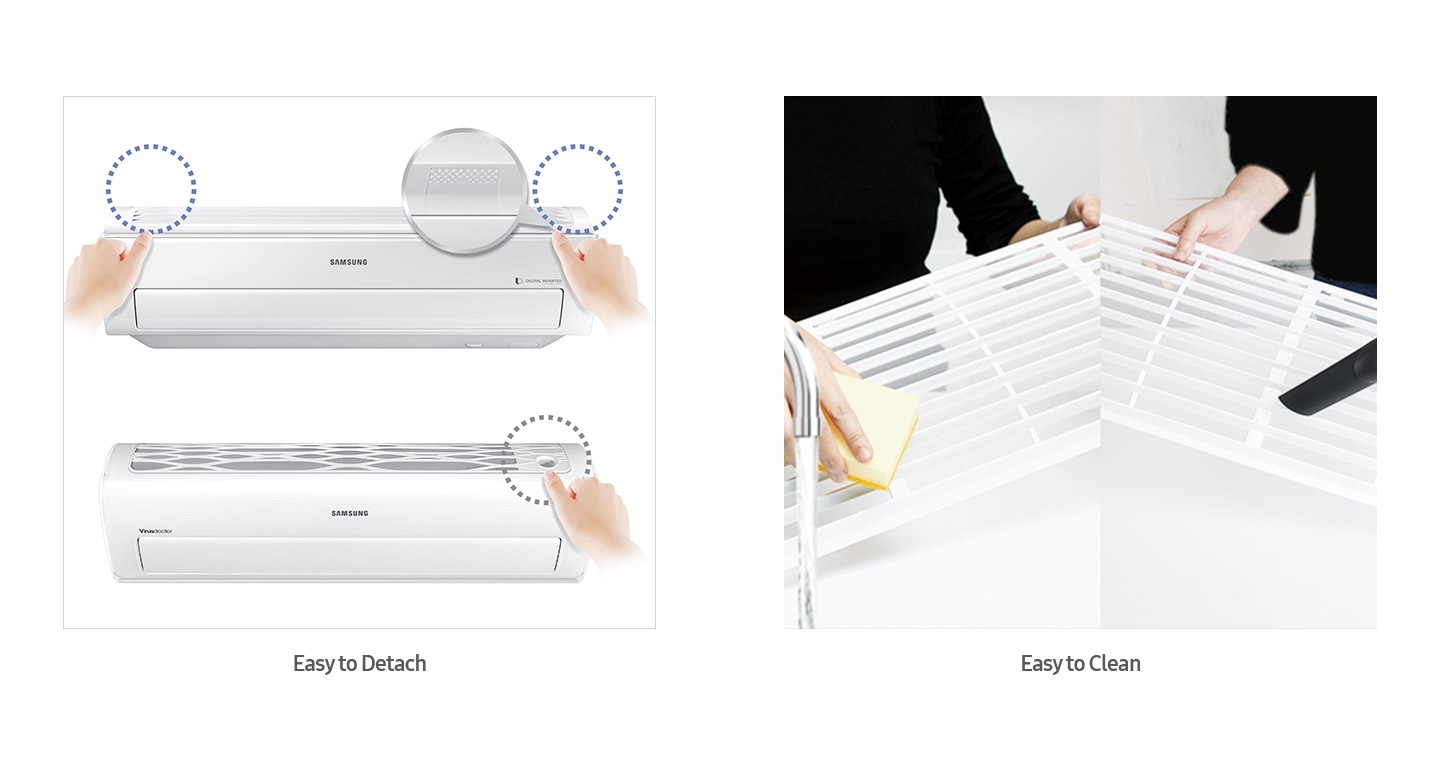 Smart Installation
We promise that all our ACs are installed by trained and efficient engineers. Smart Installation makes sure that everything runs smoothly and customer can enjoy peace of mind with correct installation through this Self Check Mode.
Brand
Samsung
AC Type
Split AC
AC Capacity
1.5 Ton
Star Rating
5 Star
Inverter Type
Yes
General Features

2 Step Cooling
Dehumidification
Fast Cool
Fan Mode
Comfort Cool

Convenience Features

Refrigerant Type- R410A
Allergen filter
Filter Cleaning Indicatior
Indoor Temp. Display
Display On/Off
Beep On/Off
24-Hour Timer

Additional Features

Anti-Bacteria
Auto Clean (Self Cleaning)
Single User Mode
Noise Level (Outdoor, High/Low, dBA)-53
Noise Level (Indoor, High/Low, dBA) - 45/28
Capacity (Cooling, Min - Max, kW) 1.3 ~ 6.5

Power

Operating Current(Cooling, A) - 7.0
Power Consumption (Grill)-1,500 watts
Power Source(F/V/Hz)-1/220 ~ 240 ~ /50

Dimensions

Net Dimension (Indoor, WxHxD) -1,065 x 301 x 311 mm
Net Dimension (Outdoor,WxHxD) 880 x 638 x 310 mm

Weight

Net Weight (Indoor, kg) -13.1
Net Weight (Outdoor, kg) - 35.3

Warranty
1Year Product Warranty, 10 Years Compressor Warranty