Bespoke - Dual Tone Design
Create a beautifully stylish and unique kitchen space with a custom design. It is available in White and Navy Glam Glass.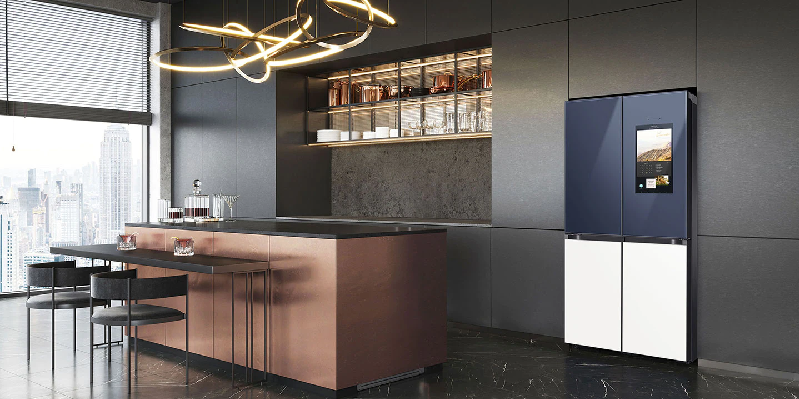 SmartView (Phone/TV Mirroring)
Watch TV programs or access online content. Using a widget you can quickly launch popular video streaming or social media apps. The SmartView app can also display what's showing on any Samsung Smart TV* and lets you view and control the millions of apps that are available on your smartphone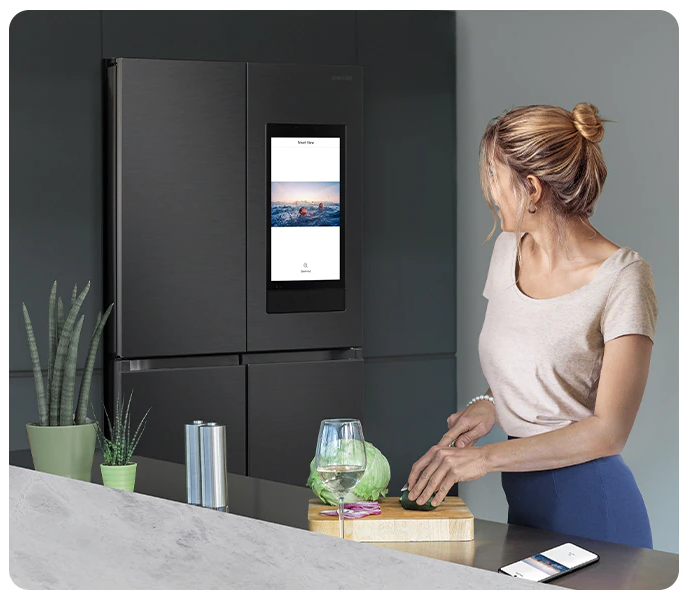 TuneIn / Spotify
Enhance your cooking pleasure and entertain people at a party. Enjoy seamless music by listening to your favorite playlists, songs and artists using Spotify. Or stream non-stop entertainment with access to global radio stations, news, podcasts and comedy shows on TuneIn.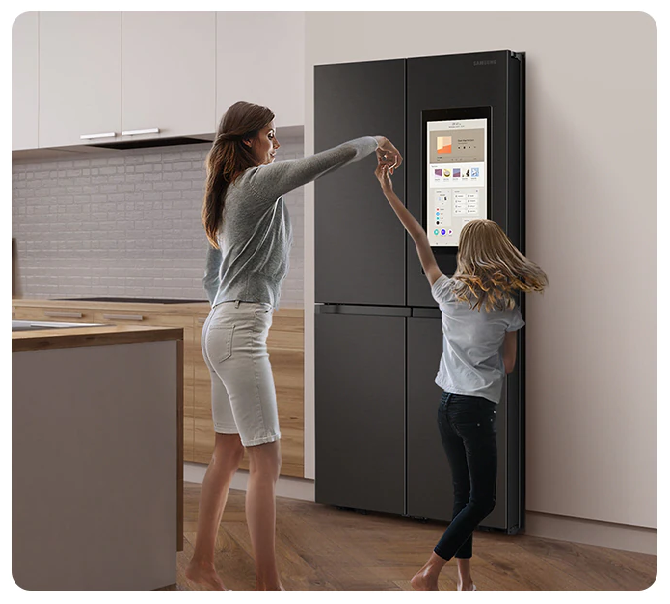 Internet
Access your favorite web services* without a PC or mobile device. Using the embedded Internet browser app you can view online content, such as news, social media and much more. You can also create shortcuts on the home screen or save links to popular websites, so you can quickly access them.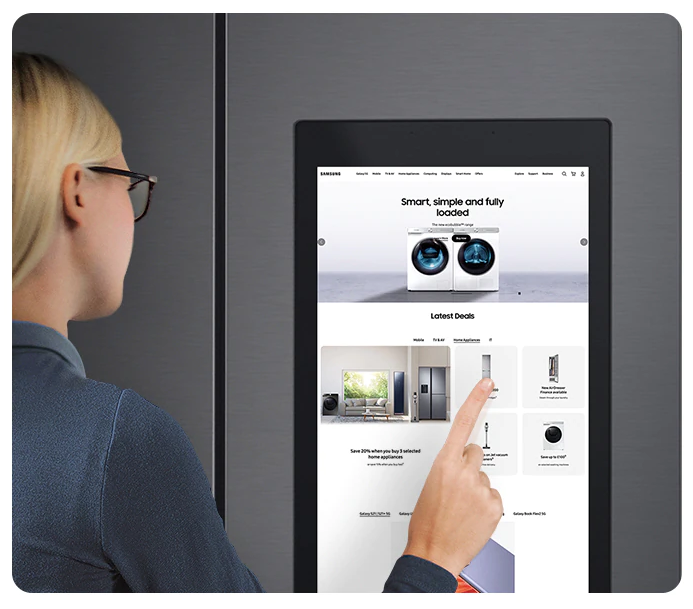 Art Gallery
Immerse yourself in a world of beautiful art. "Art Gallery" automatically displays various pieces of art when the screen is not touched for a set time*. It includes 122 paintings covering a wide range of art styles, from classic to contemporary, which are shown randomly for up to 2 hours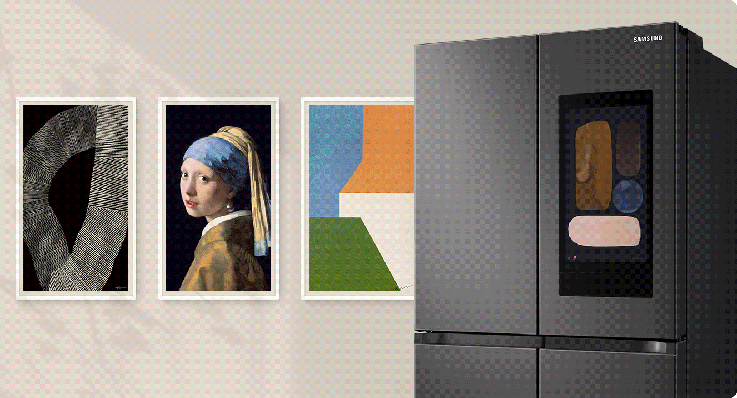 Triple Cooling + Precise Cooling + Metal Cooling
Keep food fresher for longer and preserve its natural flavor and taste. Triple Cooling independently controls the temperature and humidity in 3 compartments and prevents odors from mixing. Precise Cooling also minimizes any temperature fluctuation to preserve the quality and texture of food. Metal Cooling plate helps keep the fridge cool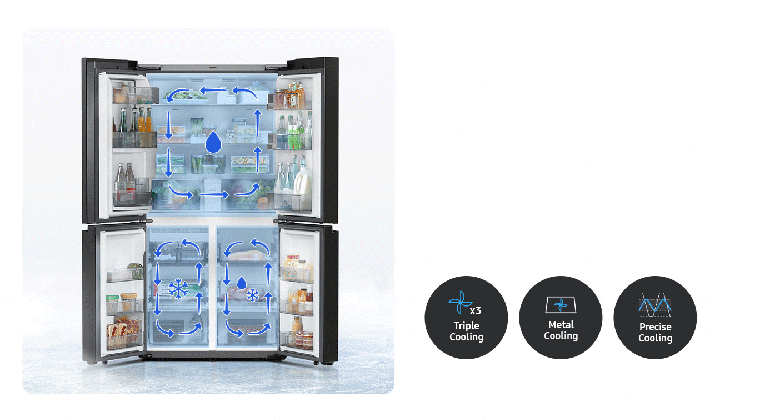 Large Capacity
Neatly store much more food. A huge capacity* means there's plenty of room in the fridge and freezer to store your grocery shopping. And it's easier to keep everything neatly and efficiently organized. So you can quickly find and take out the things you need whenever you want.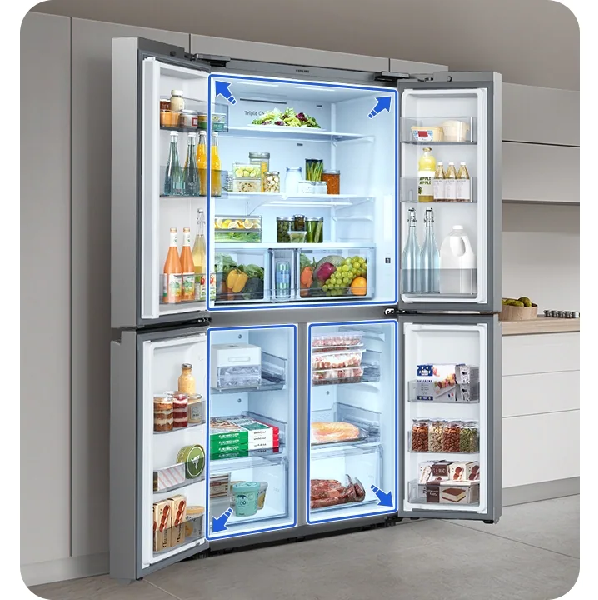 UV Deodorizing Filter
Keep the air in your fridge fresh day after day. A new built-in deodorizing filter reduces odors caused by bacteria from the air in your fridge. It also has a UV light that continuously cleans the surface of the filter, so you never have to change it.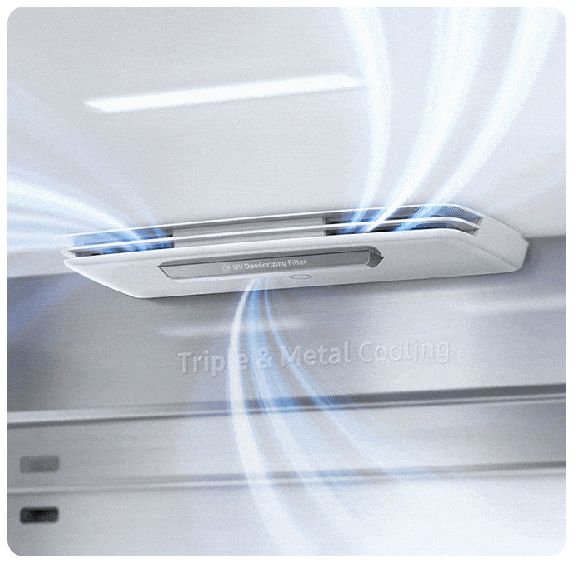 | | |
| --- | --- |
| Brand | Samsung |
| Capacity | 934 L |
| Type of Refrigerator | Side By Side Refrigerator |
| Cooling Type | Triple & Metal Cooling |
| Colour | Glam Navy + Glam White |
| Refrigerant type | R600a |
| Compressor Type | Digital Inverter Compressor |
| Number of Shelf | 4 |
| Shelf Type | Spill Proof |
| Wifi-Enabled | Yes |
| Dimensions | 972x1995x972 (WxHxD) mm |
| Weight | 155 kg |
| Warranty | 1 Year warranty on product, 20 Years warranty on Digital Inverter Compressor |